Wordless Wednesday
I decided to have a little fun with this one and zoom in close. What is this a photo of?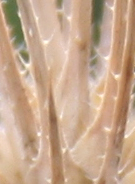 Any ideas? Leave a comment with your guess and then click here for the answer.
When you leave a comment, let me know if you'd like me to continue playing Wordless Wednesday this way or not.
For more fun, check out my Wordfilled Wednesday here (it involves a photo, too).
If you'd like to play along or check out other Wordless Wednesday photos, click here and here.