My hubby has been a white wall, no holes in the wall kinda guy for years. I hung things and he harrassed me about holes in the wall. I dreamed of color and he said white walls are good.

Then nesting hit. I woke up one morning, finally feeling better after months of morning sickness, and I decided I was going to paint my front door red. I'd been talking about how awesome it would look and got weird looks from hubby. I guess he saw the determination of a pregnant woman and knew he couldn't win. Instead, he told me what type of paint to get.
I also told him what color I'd love to do our living room and our bedroom someday. I jokingly said I would splash some color on the walls "accidentally" to see how it looked lol. Then something crazy happened. I went away for a weekend to a scrapbook retreat. Early Friday morning on November 11th, I prepared to head out the door as soon as my friend arrived to pick me up. I said good-bye to my family...lots of snuggling, hugs, kisses and waves including our sign language wave for "I Love You".

Off I went for a weekend of fun. It was a nice weekend, but the pregnancy hormones must have been working overtime. I missed my family terribly and really couldn't wait to get back home. I enjoyed spending time with friends though and I managed to get a lot of pictures organized. I still have a ways to go though.

Sunday night, we headed back home. The kids and my honey helped me inside...or rather...helped my belongings inside.

As I walked through the front door, I glanced through the kitchen door and noticed a red wall. I quickly moved into the living room and stood stunned.
My hubby had painted the walls a deep red color, bought two beautiful orchid pictures and hung them on our big wall, bought four red canvas baskets and put them under the coffee tables, bought a silver lamp with white lampshade and set it on one of the speakers, and also bought red curtains to go on the dining room windows.
Here's a picture of my living room: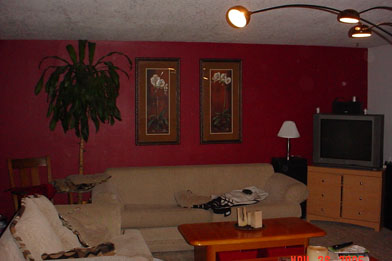 Notice the red wall, the orchid pictures (by the way, he recently learned they are one of my fav flowers), the lamp, and the red canvas baskets under the coffee table.
I yelled for my friend to hurry and come see the living room. We had actually chatted about what I'd like to do to the living room and my bedroom on the way home lol. She was as surprised as I was by the transformation.
But that wasn't all. My hubby told me to go check out our bedroom. The excitement built as I turned and walked down the hall. I turned the knob and pushed the door open and WOW! I was stunned and overwhelmed by the love my hubby had put into our room. He had painted the walls a dark bluish- gray (had told him I wanted a blue gray in there), bought a new bedroom set complete with a bed, dresser and nightstand in cherry wood (we had recently bought a new ceiling fan in cherry wood and I said whenever we could afford furniture, I wanted cherry wood), hung the mirror from our broken closet door (one side had landed on me during the night and thankfully had missed Jake who was a baby at the time, the other door I had set behind our bedroom door and I had ripped out all the framing for the doors) on the wall behind our bedroom door, bought and hung a leopard print fabric across our closet opening, taken extra leopard fabric and put on the new nightstand by the bed.
We had new sheets for the bed, a new floor lamp behind my glider, and a new lamp on my nightstand. He also took the curtains from the kitchen and put them in our bedroom.
What we had before was a mattress on the floor, an old dresser, and a cheap round table that kept falling over, old sheets, and white walls.

Here's the new look: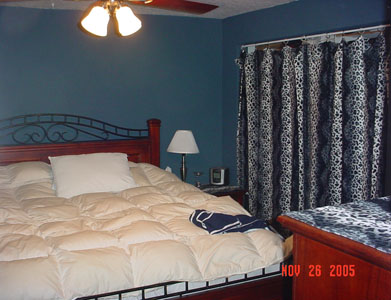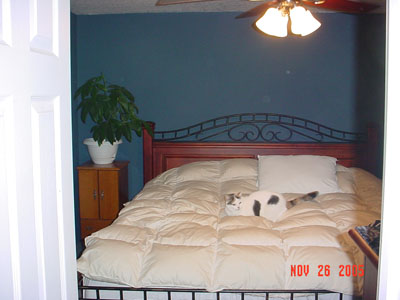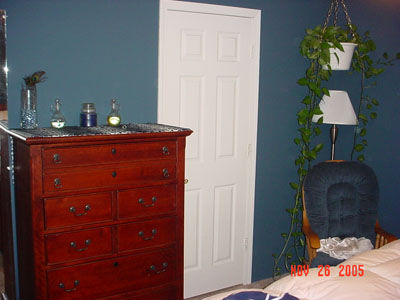 Isn't it beautiful? I was so completely shocked and felt very loved. My children and hubby worked hard all weekend to pull off my very own while you were out experience complete with tears lol.
What you can't see is how high this bed is lol. I have to climb up there. I'm hoping Bob can make a stool for me soon because being in the third trimester makes it a bit harder to manage lol.
I had had a long exhausting weekend and was in an incredible amount of pain and was also struggling to breath this same night and my hubby helped me into my new bed with just the lamps on and helped me try and get my breathing under control. If I breathed too fast, I'd hyperventilate. Try and slow it down and I'd get the shakes really bad. He was completely worn out from all his hard work, but took the time to comfort and relax me.

I STILL feel an amazing amount of love washing over me thanks to my incredible hubby. My kids really helped out a ton, too. I can't believe they pulled it off lol. Every time I crawl into bed, I lay with my beside lamp on and just take it all in. My bed is the perfect height to lay on my side and look out the window at the town lights in the distance. It's so peaceful.

And it hasn't stopped yet...the white is slowly disappearing...stay tuned...more pictures coming...