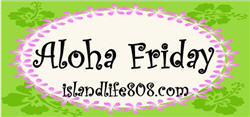 Aloha Friday always makes me think of hot, summer days on the beach. There isn't a beach here, but it does get hot. I'm looking forward to warmer days spent at the pool. I spent some time pruning plants and weeding out the dead stuff from our flower beds out front today. It felt great getting it cleaned up and thinking about the gorgeous flowers I want to plant this year. Which leads me to...
Today's question is
---
What flowers do you like to plant in your garden?
---
If you want to join in more Aloha Friday fun, click on the banner.