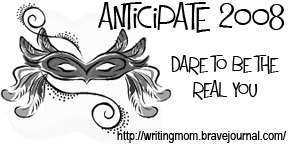 It's the first day of 2008 and I've thought a lot about the new year stretching out ahead of me waiting to be filled with the splashes of color and beautiful prose that makes up my life.
I've decided this year is about giving myself to my husband in a whole new way. It's about finishing what I've started; some things I began years ago and some recently. It's about being true to who I am, the person God made, flaws and beauty combined. It's about using the gifts God gave me. It's about developing my talents. It's about being who I truly long to be and not caring what people think. It's about stepping out and not hiding anymore. It's about freeing myself to really live life, mistakes and all.
This is me, this is real, this is vulnerability.
Anticipate 2008 is about being true to self. It's about changing only to develop who you really are, not to please others. I don't know where the road will lead, but you're welcome to join me.
Keep an eye out for posts with the above banner. If you choose to journey along with me as we anticipate awesome things in 2008, grab the mini banner below and join me.

Link the banner to http://writingmom.bravejournal.com/entry/29614 so other people can find out about this challenge.
Ready to be the real you unmasked?
Anticipate 2008 Posts:
1. Anticipate 2008 - SparkPeople Review