I have some things to share on here, but I've been so incredibly tired and now, my back is hurting thanks to my chiropractor. I'll get to that story later.
For now, I want to post about this challenge a friend of mine pointed me to: Crystal over on Biblical Womanhood is holding the Making Your Home a Haven Challenge.
Day 1 actually started on Monday, but I'd like to stay in order, so today is Day 1 for me.
1. Refresh Your Spirit (5 minutes)
I spent time with the Lord journaling my prayers and thoughts as I read Hebrews 9. I took longer than five minutes, but that's fine with me.
2. Take Time to Plan (5 minutes)
List of five things I want to do in the same order every morning:
Shower / get ready for the day

Eat breakfast / take vitamins

Check lists, calendars, and tickler file
Begin school at 8:00 AM
3. Do Something! (5-15 minutes)
Oh - I'm supposed to actually get up and do something? Okay - I quit. Just kidding. My entry closet has gotten a little out of hand, so I'll tackle that one. I'm even going to take before and after pictures. Hang tight - I'll be back in a bit.
(Deck The Halls is playing while you are on hold)
Okay, I'm back. This closet gets a little messy when the kids get into the mode of tossing things in rather than putting things away in there.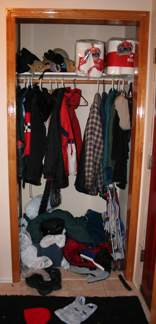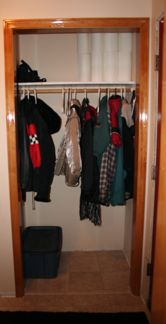 Much better. Want to take up the challenge, too? Click on the links above and we'll see where this challenge takes us.
I'm looking forward to day 2. It is extremely motivating when you do before and after photos.