Life has been a bit crazy lately. In fact, I've already written this post and I must have accidentally hit delete instead of post because poof it's gone. I hate that. So here we go with the post I can really use right. now.
13 Sanity Savers
1. Pray. When life goes off kilter and you think you're gonna go nuts, drop to your knees and cry out to God. You're kids might think you look funny with your face to the floor as you sob and babble, but you will feel much better when you're done.
2. Grab a cup of something: hot tea, hot cocoa, steamer, kick back and listen to some peaceful music. Close your eyes and relax (but not too much because you ARE holding something hot).
3. Take a hot shower or bath - bubbles optional. I have been known to take a shower for the sole purpose of having a quiet place to think.
4. Pet your pet. It's been proven that the simple act of petting your cat or dog, horse or goat (whatever) has a calming effect. Unless your cat has a cattitude and won't let you touch her, right Lady Muse (my kitty in case you were wondering)?
5. Lose yourself in a good book. A great author will draw you in and keep you spellbound until you have to tear yourself away.
6. Punch up the volume, grab your kids and boogie. Dancing to some fun music will get smiles going as well as the heart rate. It will also raise your spirit, too.
7. Watch something really funny like a comedy or a comedian. Laughter always releases stress. I've been known to laugh at the wrong times because it releases stress. I inherited this from my mother.
8. Snuggle with someone you love (I'm guessing you always choose someone you love, but i had to say it). Share a smile and enjoy each other.
9. Do something spontaneous like tickle the kids or throw sock balls at your hubby. Be prepared for the consequences. They will get you back unless you attack, run and hide.
10. Get outside if the weather is decent. if it isn't, sit by the window where you can look out at god's creation. Nature is soothing and calms the mind.
11. Call a friend and invite her over. The kids can play and you can chat about your sanity and how to save it. Women need friendships with each other. Someone who gets it.
12. Take a cat nap. It seems to work for them.
If you want to join in the Thursday 13 fun, click on the banner.
---
Thursday Challenge (Photo)
"HAPPY" (Smiles, Laughter, Hugs, Children, Beautiful Things,...)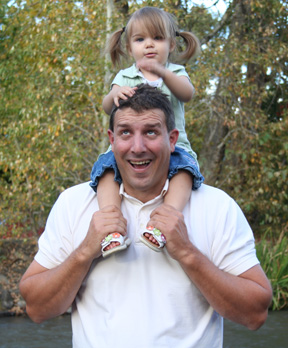 Little Drummer Girl
Join in the fun by posting your own photo for Thursday Challenge and/or check out the other great photos.