Life is a bit crazy at the moment, so this post seemed appropriate for thursday 13 (#2).
13 Sanity Savers
1. Settle back into a comfy chair with a hot cup of tea and some peaceful music.
2. Take a hot shower or bubble bath. Sometimes I escape to the shower, just to have some quiet time to think.
3. Pet a pet. There is something soothing about petting your dog or cat. Unless your cat has a cattitude and would rather you not pet them. Hmmm.
4. Lose yourself in a great book. The right author can draw you in and keep you hooked until you literally have to tear yourself away and get back to reality.
5. Go for a walk or sit outside if the weather is nice. if it isn't, sit and look out the window. Nature seems to calm the mind.
6. Pump up the music and dance. Grab your kids and boogie. All of you will end up laughing.
7. Watch something really funny. Laughter always makes things easier to handle.
8. Find the humor in your current situation if possible. Sometimes a good laugh can make things seem a better.
9. Watch your children play. You can learn a lot about them and find yourself caught up in their fun.
10. Grab your camera and look through the lens at life for a while. Sometimes a different perspective is all you need.
11. Free write. Just start writing and let all the good, bad and ugly pour out onto the paper. You may find some hidden gems or you may just find a lot of junk. Either way, you will feel better.
12. Do something creative. Paint, color, draw, write, bead, scrapbook - whatever it is, you will emerge feeling good.
13. Pray. When all else fails, pray? Sometimes it's the last thing we think of when we should start here and see where He leads us. Maybe to one of the things above, but more likely to something much better.
Click on the banner for more Thursday 13 fun.

---
Thursday Challenge
"HAPPY" (Smiles, Laughter, Hugs, Children, Beautiful Things,...)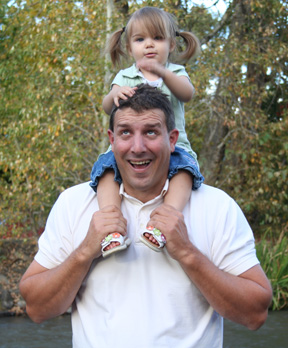 Little Drummer Girl
If you'd like to join the Thursday Challenge or just see some great photos, click here.