If you want to see something hysterical and have some fun, check out this post where I elfed my family.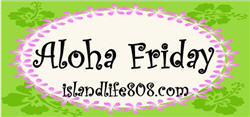 I love Aloha Friday. It's a fun meme, and I've met some neat people, but that's not the only reason. It also makes me think of warm, sunny days which helps lift my spirits when it's cold and dreary with no sign of the sun.
Every winter, I struggle with SAD once the sun disappears for days on end. I won't invest in the special light system, so I have to come up with alternatives. So my question is this:
How do you fight the winter blues?
My answer: Whenever the sun peeks through what feels like the endless cloud cover, I find a spot where it's streaming through the window. I sit there in the sunshine and soak it up. On days where it feels like I'll never see the sun again, I try to remember to use music, photos, etc. to lighten the heavy feeling.
I look forward to reading your responses and hopefully discovering new ways to fight the winter blues. After you answer my question in the comments, you can visit Kailani over on An Island Life and join in the Aloha Friday fun if you'd like.

I'm thankful for my brother. He gets me. I don't have to explain, he just knows. We've always been close and we're a lot alike. I can't remember one fight we've ever had. I'll have to ask him if he can remember. Or maybe I should ask our mom.
Anyway, I'm incredibly blessed to have him as a brother. He's an amazing man with an awesome sense of humor, a strong sense of family, and, well, a lot of common sense (I had to stick to the sense theme). He's also a great cop, husband (his wife agrees), and dad.
Jonathan - I love you, man! Sniff. He knows I'm grinning. We don't get goofy sentimental. hormonal (me, not him), but not mushy. I do miss our deep and long conversations though. We'll have to set one up next time I'm in town.