It's coming to a blog near you in November: NaBloPoMo! What is it? National Blog Posting Month of course. I've been neglecting my blogs an awful lot these past er nevermind.
Anyway, I thought this would be a fun way to recommit myself. No, not to an asylum. To YOU, my faithful and loyal um reader. But hey, if one more person reads this blog, I will have DOUBLED my readership! How cool is that?

The challenge involves writing on our blogs EVERY DAY for the month of November. Totally doable don't you think? Seeing how I'm such a glass half-full type of gal, I made this badge in honor of my commitment: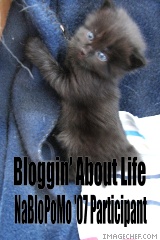 See the cute kitty? You know, the wide-eyed one hanging on by his claws for dear life? Yeah, so me next month.

Anyone else joining the fun?