We got everything unloaded and just rested for the remainder of Sunday. Everyone was exhausted. Monday, Jessica and I headed out for a day of shopping with Amber. We had a blast goofing off and trying on things we'd never buy. Most of the day was spent laughing. It's been so long since we've been able to visit. The kids spent the day hanging out together and relaxing. Here's Jake enjoying his cousin's beanbag chair and loving on Jessica's dog:
Just my size!
On Tuesday, we all headed out to my aunt's house for the day. She breeds
Standard Poodles
(click on Dress Up for some hysterical pictures). We got our wonderful boys from her. The kids (and mom) love going there and seeing her animals. I fell in love with her new darling miniature poodle who was in mourning. She had lost her sister and the two pups had been inseparable before the accident.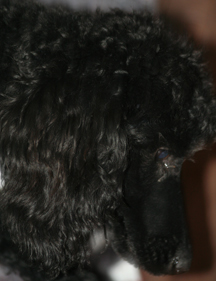 Isn't she beautiful?
I'm in love! Oh hoonnneeeeeyyy, can I have a miniature poodle, too?

We also enjoyed seeing her goats, especially the baby: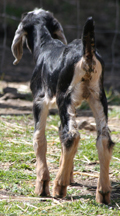 Rear view lol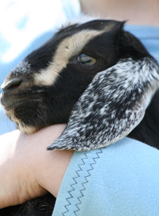 Too sweet!
We also had fun with her big animals. Bring on the horses: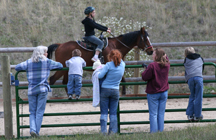 Katrina is showing her stuff while everyone cheered her on.
I have a ton more pictures from visiting my aunt, but those will have to wait. On Wednesday, Jessica hung out again. We were trying on some stuff in this one dressing room and ummm...one of us (I will not reveal which because I'd hate to embarrass my sister like that <g&gt

had gas to which I said, "I hate to be the one who comes in here next". We laughed and turned around and HELLO...there's a woman standing there. Oh my. We both walked quickly away and then got the giggles...I honestly didn't think we could get the snorting under control. Yes, we were behaving very juvenile, but sometimes, ya just gotta be goofy and let the tears roll!
To show our maturity, we also pulled up to a couple in the Target parking lot and Jessica advised them on their car seat purchase which they were loading in to the back of their vehicle. They recognized her since the woman said, "You're the car seat lady" and the man said, "Yeah, the car seat Nazi." He meant it in a nice way of course. They were both excited to recognize her and I felt like I was with a celebrity. Well, she has been on television a couple of times as well as various big events. I guess she is a bit of a celeb.

Seriously, though, I am so proud of my sister for taking a tragic accident in her life and turning it into a way to help others. If you need any advice on car seats, whether purchasing or installing, she's your gal. She knows her stuff.

So anyway, on Thursday (this is getting long...it's the pictures), we headed out to do some folfing. I've never folfed, but I'm HOOKED! I love it and wish we had a course here. For those not in the know, it's frisbee golf with a specialized disc and they have courses. My dad is in charge of the day park there in Missoula which has a folfing course. Here's a couple action shots by yours truly: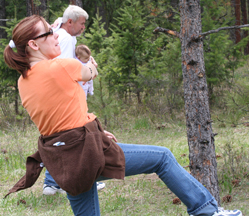 It's all in the leg angle. Apparently, Amber was in action, too because grandpa is in the background wiping his neck with the burp cloth. Go, Amber!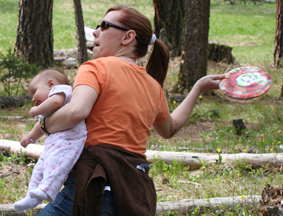 I played with Amber mostly in my arms, she thought it was funny, well, when she wasn't puking. Hmmm...maybe it was the swinging? But look at my form. Powerhouse, it goes for miles...okay...a few feet. But it was fun!


Okay, this has gotten long again. Part three coming up.